SF010 – Dreadsquad feat. Natalie Storm – Beat that chest (remixes)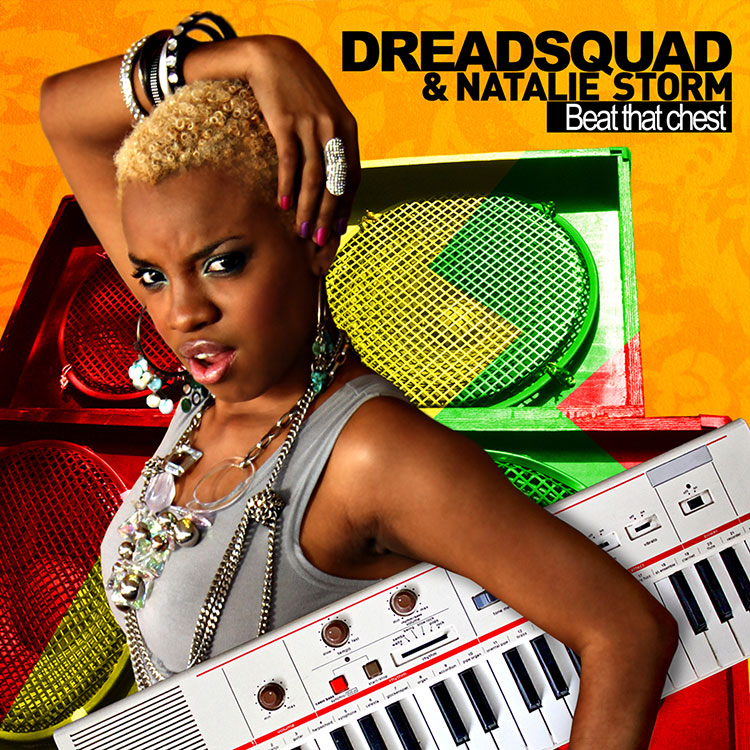 Artist: Dreadsquad & Natalie Storm
Title: Beat that chest (REMIXED)
Format: 12" & Digital download
Genre: Reggae / Dancehall / Dubstep / Jungle / Drum & Bass / Breakbeat
Label: Superfly Studio
Cat.No: SF010
Release date: 9th December 2011
Artwork: Superfly Design
Superfly Studio SF010
Dreadsquad & Natalie Storm – Beat that chest (REMIXED)
Remix release from Polish dj/producer duo Dreadsquad teamed up with Jamaican female singer Natalie Storm, remixed by producers from UK (Jstar, J Bostron, Jinx in Dub), Japan (Part2Style) and Poland (Auer – The Lordz Team, KGS). Heavyweight selection of Dancehall / Drum&Bass / Jungle / Dubstep / Breakbeat bangers.
Natalie Storm is a multi-talented Singer, D.J, Producer, and Songwriter who believes that the universe is hers to conquer. Her unique fashion flair and international sound combined with her hardcore dancehall flavour has immediately connected with fans locally and abroad looking for a new sound.
From hardcore passa passa bashment tracks to global dance music, Natalie Storm delivers a variety of songs like no other. As well as her dancehall success, Natalie has appeared as the featured artiste on five tracks for Danish super group Enur's Raggatronic album. Enur is the group whose international hit "Calabria" has swept pop charts all over the world selling well over a million units. Natalie toured with the group in 2008 and continue to represent for the album on various shows. Natalie is never one to rest, since 2008 she embarked on a new musical project with gal pals and fellow artistes, Tifa and Timberlee. TNT (Tifa/Natalie/Timberlee), is the first female super group in the history of Jamaica. With the release of their critically acclaimed mix cd "3 the hard way", they've captured the ears and attention of heavyweights the world over and have been featured in the Fader and XLR8 magazines and also performed at the Levi's Jeans CMJ showcase in New York to rave reviews.
Most recently, Natalie teamed up with Mixpak records and popular Uk producer Sticky, to release a monster single titled "Look Pon Me". The song is also featured on the Jumeirah Riddim Ep which is available for sale on all popular music outlets such as Itunes, Juno and Amazon. The Jumeirah EP became the number 2 most downloaded dance music EP being sold on Juno in December 2009. A video is being readied for release in early 2010. Her self titled EP will be released on Mixpak Records in early 2010 and will be defined by the eclectic sound and style the world has come to admire and love from Natalie.
Natalie Storm is indeed taking the world by storm with her electric sounds and her first release for 2010 on the Prodigal Ent./Ward 21 Music label titled "Permanent Hiding" shows no signs of her slowing down.