SF003B – Dreadsquad feat. Lady Chann – Money ah dem god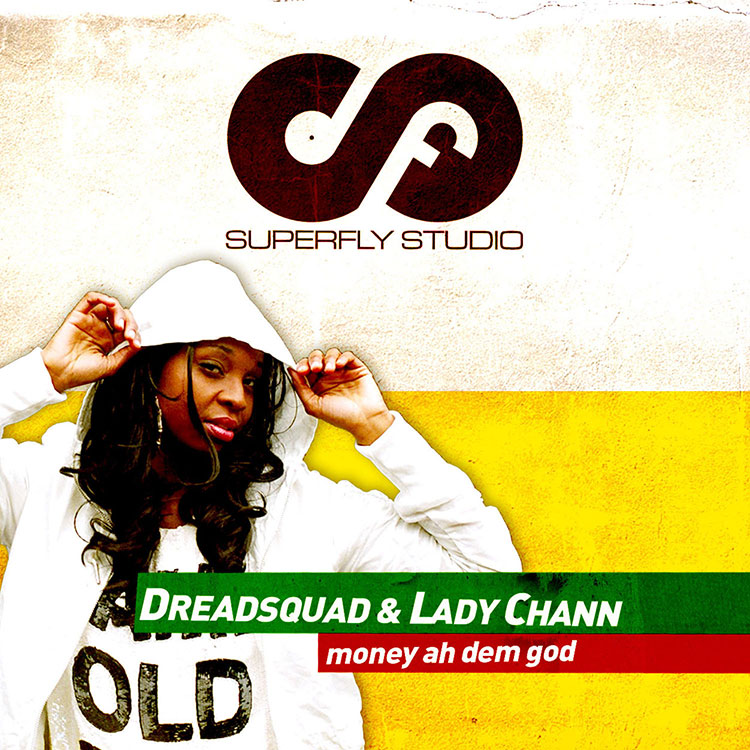 Artist: Dreadsquad & Lady Chann
Title: Money Ah Dem God
Format: 12″ / Digital Download (Including bonus tracks – acapellas and instrumental versions)
Genre: Reggae / Dub / UK Funky
Label: Superfly Studio
Cat.No: SF003B
Release date: October 2010
Artwork: Superfly Design
Buy: Juno Itunes
Lady Chann (London / UK) has been part of North West London's vibrant Suncycle crew since it's conception, and now she's branching out alone, and bringing her unique talent to a wider audience.
Well schooled in reggae music from an early age by her soundman father, the rhythms of Studio One, Trojan and Treasure Isle soundtracked her childhood. Chanelle's mother recognised her keen musical interest from an early age and encouraged her to take up piano, flute, trombone, french horn and even the drums, alongside the singing lessons that set her on the path.
Fast forward to 2009 and Chann has been deep in the studio with some of the UK's hottest producers, working on tracks for her debut album. She worked with South Rakkas, Todla T, Warrior One and Sticky.
Live, Lady Chann is a force to be reckoned with. Having served her apprenticeship as part London's premier dancehall crew she is a true microphone controller, her husky voice and trademark flow setting her apart from the pack, and tearing up the hottest clubs across the UK and beyond.
"Puuulll UP! More ace sounds coming straight from the heart of Europe via JA! Dreadsquads blends and Radikal Guru's remix of 'Caravan' have been on JSTAR DJ rotation and now comes more wickedness out of the musical fire!!!!"
J*Star / London, UK
"Dreadsquad brings some nice vibes to the dancefloor with this fresh remake of answer riddim and the collaboration of Ward21 making an ode to the reggae musicality. On B side Lady Chann put reality lyrics over an up-tempo and skanking rhythm proving there is some intelligent life in dancehall still. Well done production by Dreadsquad and remixes by many guests keep the same level."
Marcus MPC / DigitalDubs / Brazil/
"Slick as ever productions from the Dreadsquad camp – uplifting vibes that will nice up any dance, with a deadly selection of remixes to boot. "
Ben Menter / Mr Benn aka Mr Blennd / Bristol, UK
"It's a bashment skank thing! Lady Chann on fire as ever. Great to hear Ward 21 in a jungle style. Real jump up party track."
Gabriel Myddelton / Heatwave / Rinse.fm / London, UK